EMBRACE WINTER AT BENJAMIN BRIDGE
Experience winter and its beauty in the Gaspereau Valley. Our family-friendly farm winery is open during the brilliant colder months with unique activities and experiences for all.
WINTER HOURS
WINE SHOP, GUIDED TASTINGS, & BY-THE-GLASS SERVICE
Open Tuesday to Sunday, 12 pm to 8 pm
Closed Mondays
Special hours and closures:
December 24th - Closed
December 25th - Closed
December 26th - Closed
January 1st - Closed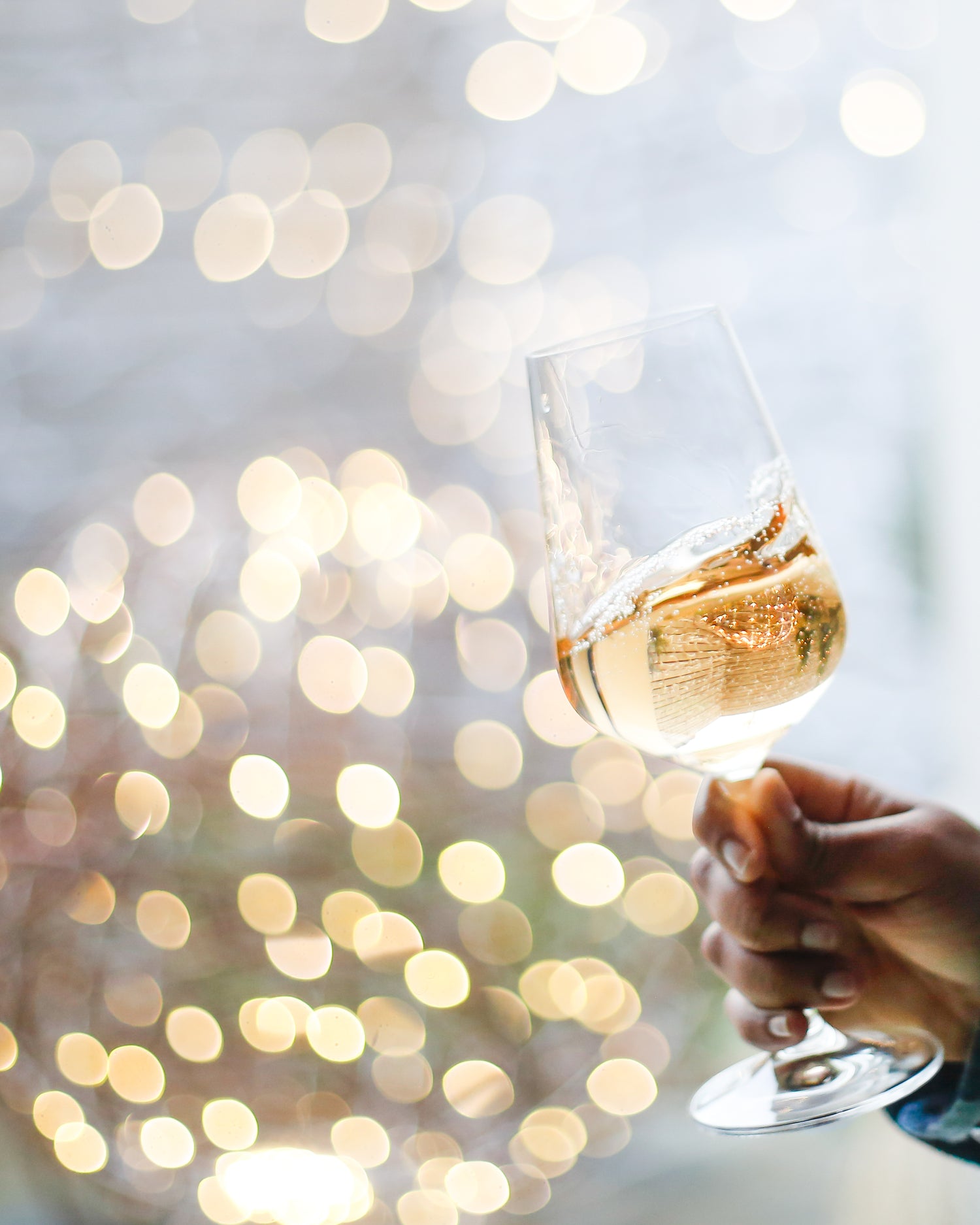 BUBBLES & BITES | SPARKLING WINE TASTING
Discover our renowned Traditional Method sparkling program during this delightful 45-minute experience guided by one of our knowledgeable team members. Sip and savour three of our favourite bubblies, perfectly paired with a locally sourced cheese and charcuterie board. Whether you're seeking a heartwarming experience to gather with family, reconnect with old friends, or simply cherish the moment with someone special, it's the perfect way to celebrate this holiday season.
BOOK NOW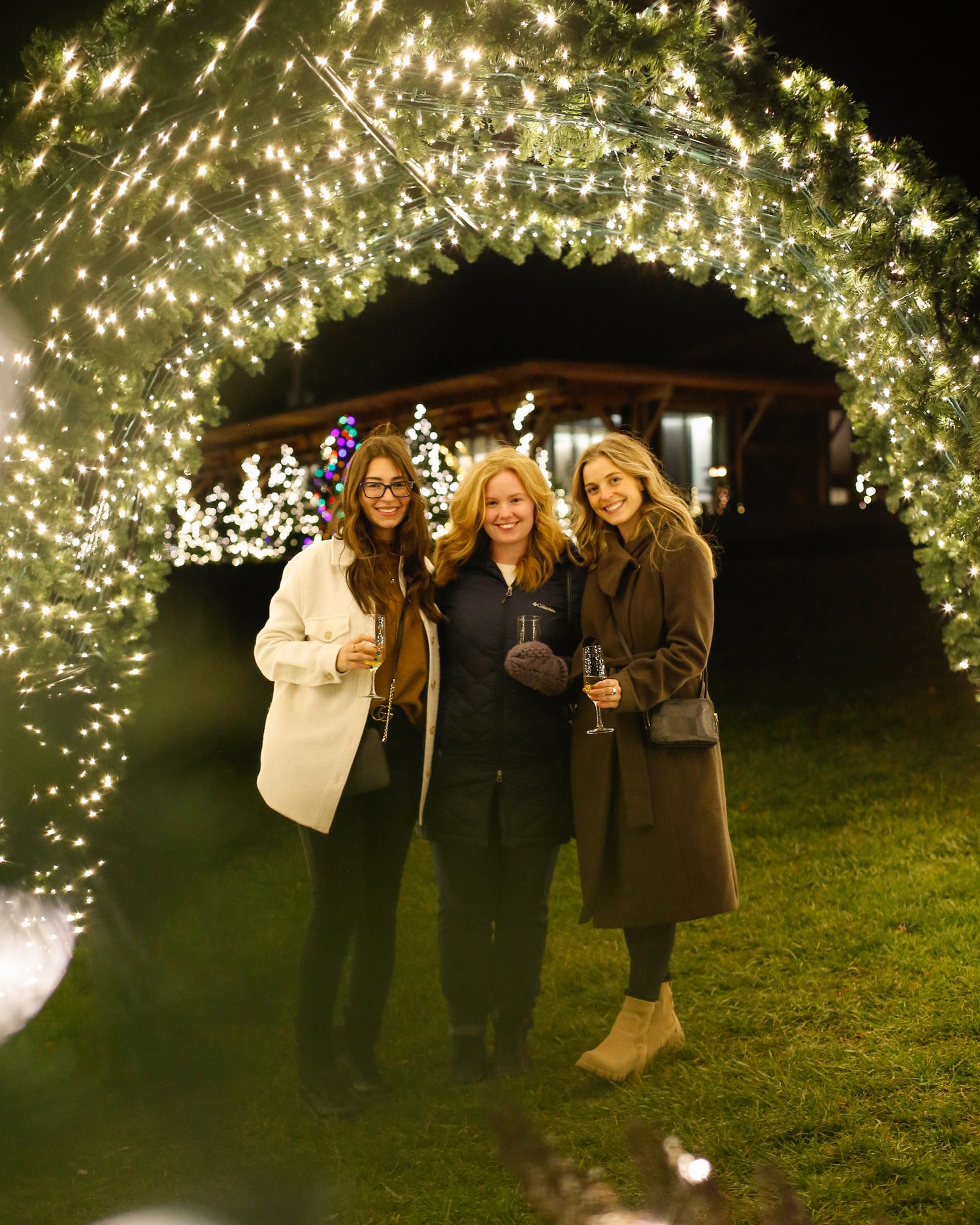 VINEYARD HOLIDAY LIGHTS
Our festive holiday lights are back this winter season beginning Sunday, November 19th. Round up your family and friends, plan a date night, or bring the little ones to take in the magic of our vineyard wonderland of festive lights - the perfect photo-op! Order a glass of wine or hot drink to enjoy while you wander, then warm up around our beautiful fire bowl and heated seating areas on the terrace. Admission is free for all!
Tuesday through Sunday, 4pm - 8pm
Now through early January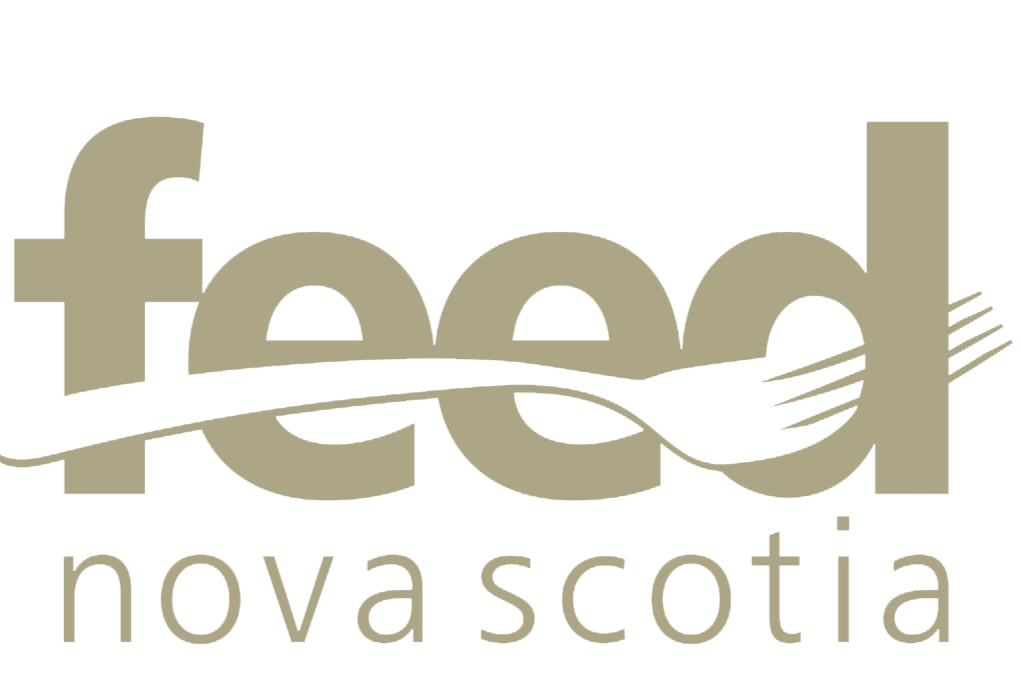 Consider bringing a food or monetary donation for Feed Nova Scotia as admission, but in keeping with our goal of creating an accessible experience for all, it is not a requirement. Donations will be collected in our wine shop all throughout this winter season.
WINTER VINEYARD ADVENTURE
Escape into the vineyard on a journey with your host during this unique and unforgettable tasting experience until you reach our scenic river landing with seating around a crackling, cozy fire. Take in a tasting of a rare seasonal wine with a house-made snack, and take part in wreath-making or a pruning workshop depending on the time of season. This unique winter experience combines the joys of sipping sparkling wine with the slower pace of life in the Gaspereau Valley.
BOOK NOW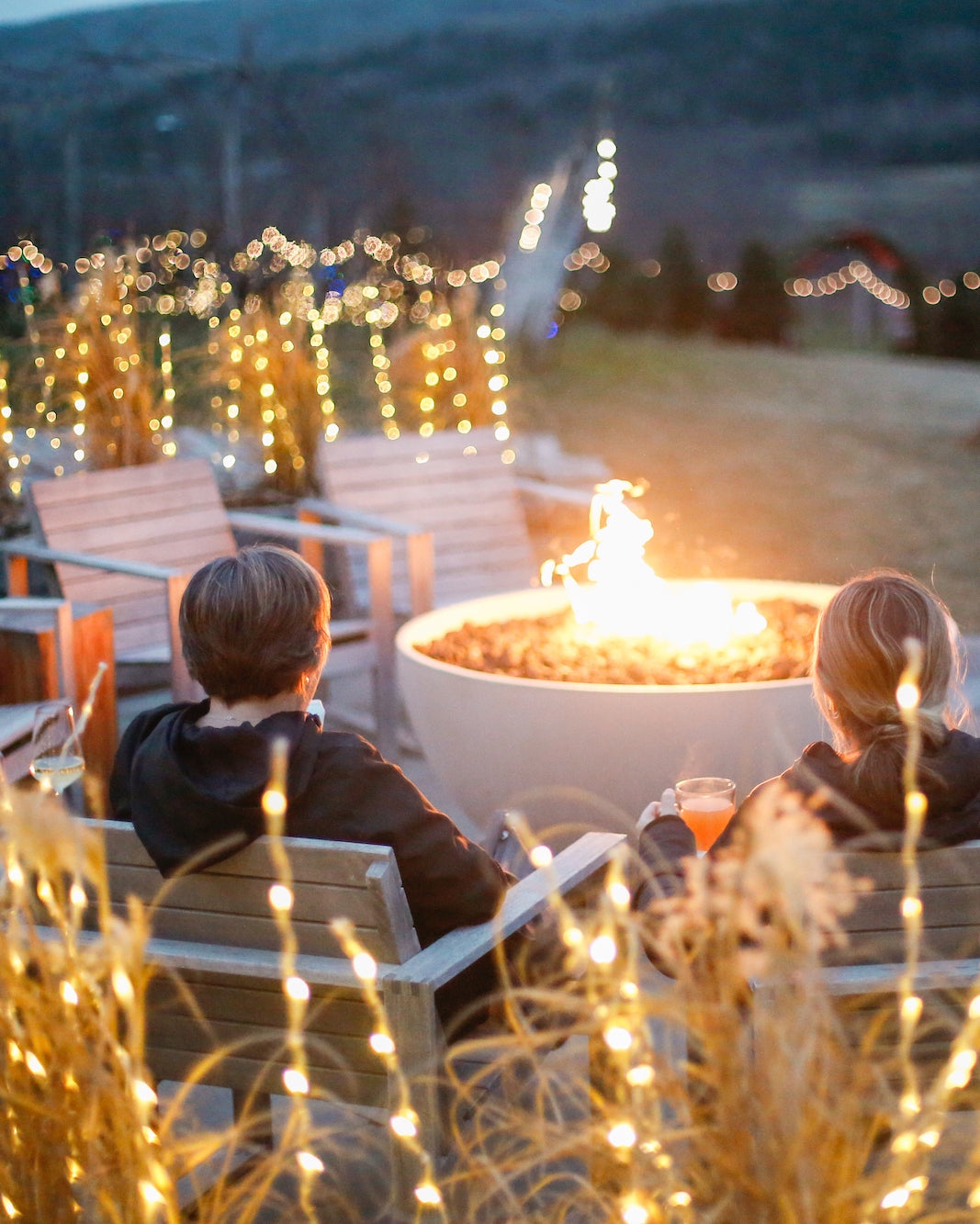 HEATED OUTDOOR TERRACE
Stay cozy while enjoying the picturesque views of the Gaspereau Valley this winter on our heated outdoor terrace around our fire bowl or warming stations, complete with wool blankets and a selection of warm drinks like hot cocoa and mulled apple cider.
LEARN MORE
FARMWORKS HOLIDAY MARKET
Sunday, November 26th from 12 pm to 4 pm
Join us for our annual Farmworks Holiday Market presented by Friends of Agriculture in Nova Scotia. Discover amazing local vendors and enjoy a warm glass of mulled apple cider or wine to sip while you shop. Benjamin Bridge wines will be available for custom gift wrapping and personalized handwritten notes. Your one-stop shop for holiday shopping! While some vendors may accept cards, cash is accepted by all. No ATM or cash back option will be available on-site, so please come prepared!
Stay tuned for further info about weather-pending open dates for the below mid-winter experiences coming soon!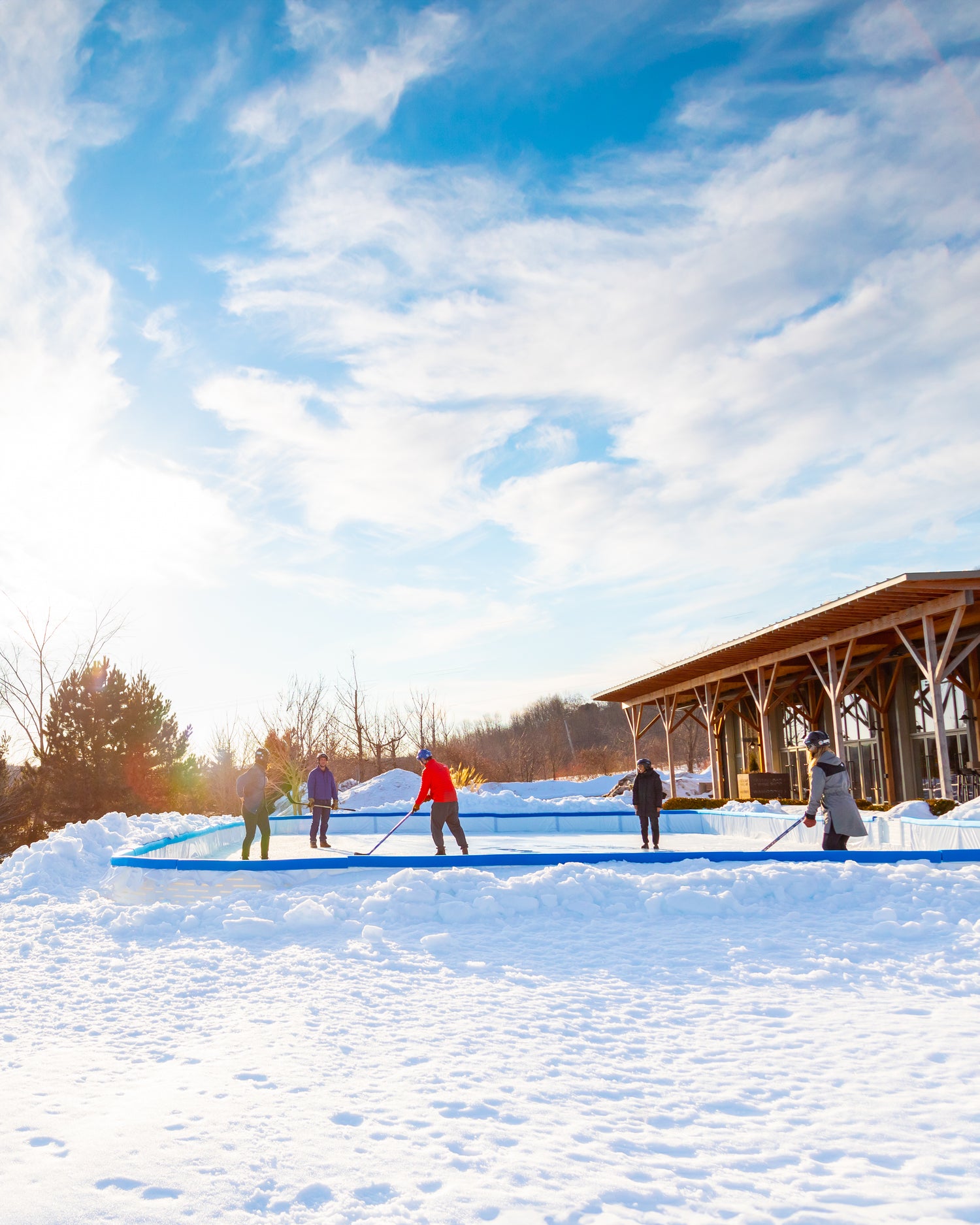 OUTDOOR SKATING RINK
Cost: $5 per person, or $20 per group
Enjoy a one-hour skate on our winery's natural outdoor skating rink overlooking the picturesque Gaspereau Valley. After your skate, cozy up with a glass of wine or warm drink around our fire bowl or indoors amongst the wine barrels. This memorable outdoor activity is perfect for friends, family, and the kids, too! Half of each rink entry fee will go directly to Feed Nova Scotia.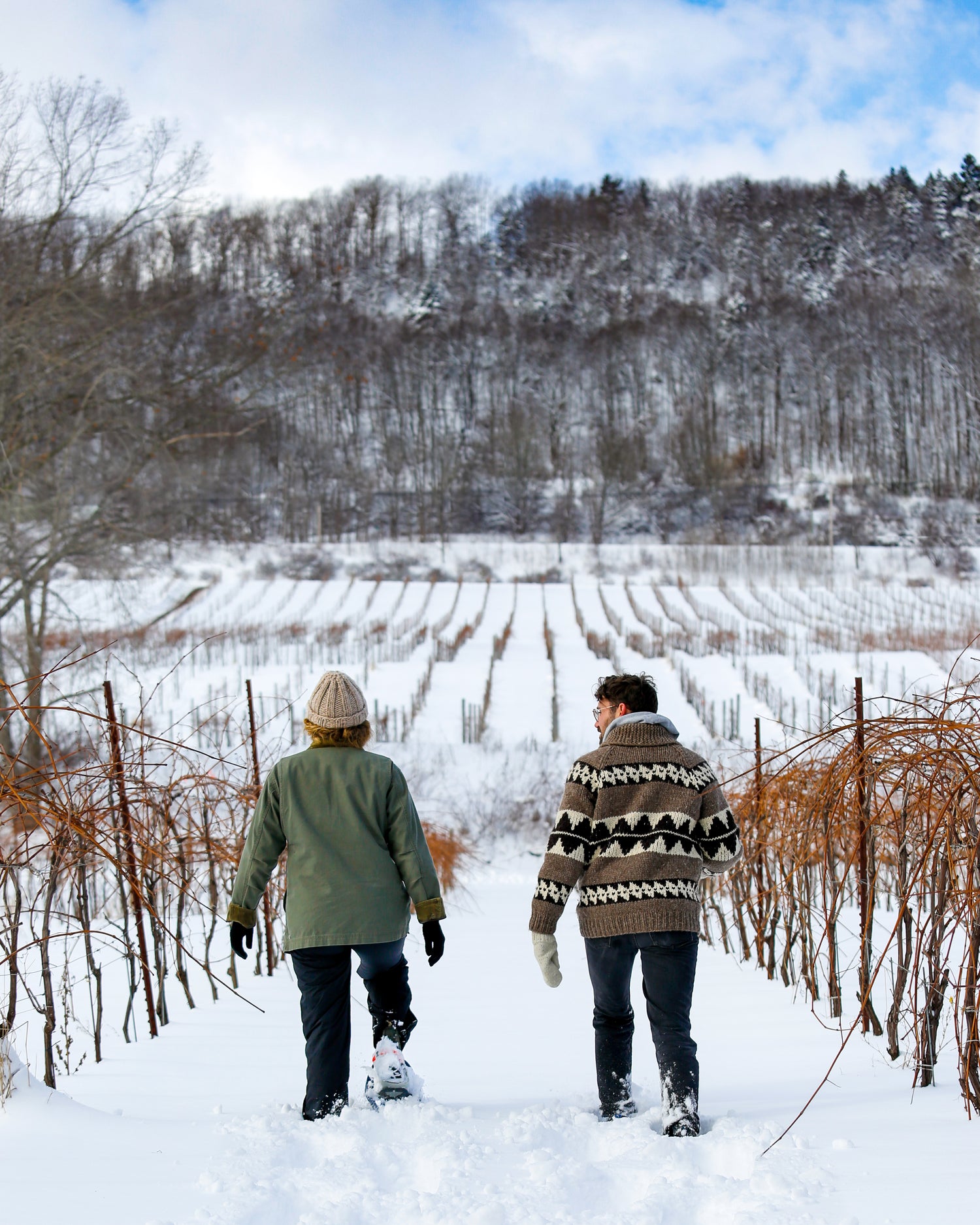 VINEYARD TRAILS
We welcome you to explore our vineyard on snowshoes or by foot during our open hours. We have limited snowshoes available for rental – give us a ring at the winery to reserve a pair!