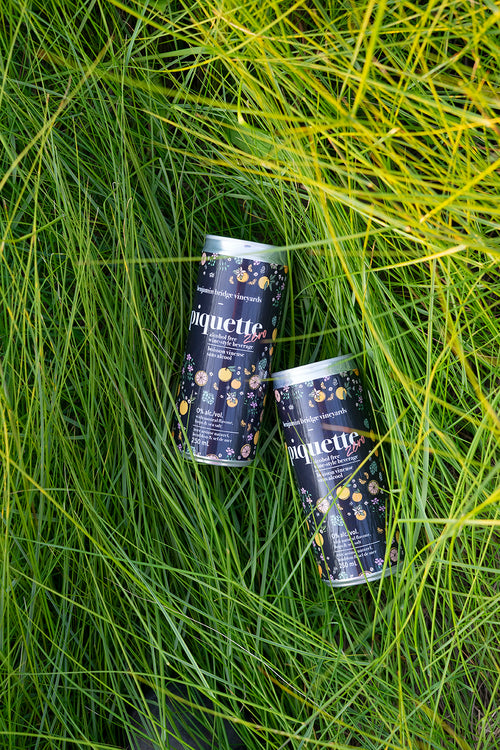 Explore Our Alcohol-Free Alternatives
Trailblazing Alcohol-Free Wine Alternatives
Guided by our brand mission to craft extraordinary experiences that are warm and welcoming to all, several years ago, we witnessed a gap in the market for well-crafted low-to-no alcohol wine options that did not compromise on taste. We anticipated an increasing demand for ways to participate in the shared pleasure of drinking wine without the alcohol, whether for moderation, preference, or abstinence reasons. Our path into alcohol-free wine-style options followed the 2020 debut of our Piquette Family of artisan-infused light wines.
As aspirational leaders in the small world of ultra-premium Canadian wines, we saw a niche opportunity at the intersection of non-alcoholic and artisanal winemaking. We believe that our skillset in crafting terroir-driven wines positions us to offer a non-alcoholic experience that is both unmatched and presently non-existent. Tapping into the insights gained from working with grape skins, we applied these same principles in making Piquette Zero.
Not identical to wine, this new sensory experience is to be discovered for its own unique deliciousness.
What The Critics are Saying...
"The real excitement in the [non-alcoholic] category stems from innovative vinous products that creatively layering elegant and complex botanicals such as Benjamin Bridge's Piquette Zero"– Christopher Waters, Wines & Spirits Columnist, The Globe & Mail
"Piquette Zero, a wine-style beverage created at Benjamin Bridge winery in rural Nova Scotia is one such breakthrough product that will certainly produce a 'yes' moment for anyone who drinks it."– Sarah Kate, Canada's Non-Alcoholic Drinks Expert
"For Nova Scotian wine wizards, Benjamin Bridge, creating extraordinary sensory experiences connected to a sense of place is at the heart of everything they do. Of late, there has been a massive boom in low-to-no alcohol beverages across Canada, especially in the easygoing Piquette category." – Aman Dosanj, Elle Canada
Frequently Asked Questions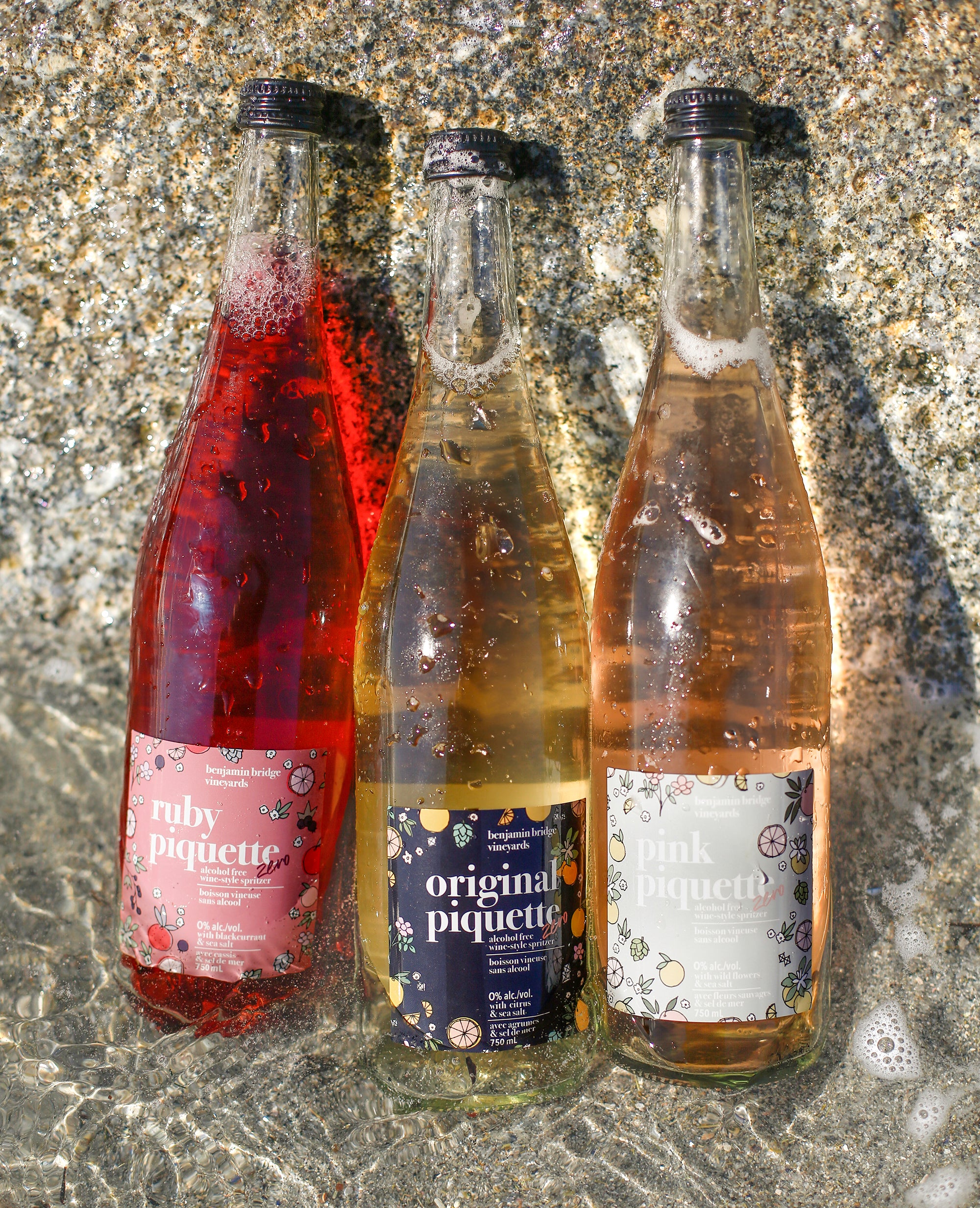 Is Piquette Zero made from wine?

No, Piquette Zero is not made from wine. Instead, we have used a unique and proprietary process involving grape skins combined with natural citrus flavours, floral elements, organic citra hops, and hand harvested sea salt to create this creative and unprecedented craft option.
Is there any alcohol in Piquette Zero?

You can enjoy aromatic Piquette Zero knowing that there isn't a trace of alcohol present, and also that zero alcohol has been used in its creation. It's a true alcohol-free alternative at 0.0%!
Can I drink Piquette Zero while pregnant or nursing?

Absolutely. As a true 0.0% option, you can safely enjoy Piquette Zero throughout pregnancy and while nursing too!
Is it safe to drive after drinking Piquette Zero?

Yes, absolutely. If you've only had Piquette Zero to drink, you are safe to drive. You can even hit the road with one in hand!
How should I serve Piquette Zero?

We recommend serving Piquette Zero well-chilled for optimal enjoyment. Pour into your favourite wine glass, or enjoy it straight from the can!
Does Piquette Zero pair well with food?

Yes! It's a delicious sparkling wine alternative that can be enjoyed equally on its own or paired with a wide variety of foods.
How many calories are in Piquette Zero?

There are 50 calories in a 250ml serving (one can) – less than most wines, juices, and kombuchas.
How much sugar is in Piquette Zero?

There are zero grams of sugar in Piquette Zero.
What are the nutritional facts for Piquette Zero?

You can see the nutritional facts in the table below:
Why is there glycerin in Piquette Zero?

Piquette Zero is a natural and low-intervention alcohol-free alternative to the unique sensory experience of traditional wines. The main pillars of fullness, character and identity in wine are the tannins and antioxidants present in grape skins, the natural acidity present in the grapes, and the enveloping warmth of the alcohol content. The purpose of glycerine, a naturally vegan product found in the world's most robust and full-bodied wines, is to provide an alternative to the fullness and warmth of alcohol while remaining sugar-free and alcohol-free. 
Is Piquette Zero vegan?

Yes, there are no animal byproducts used in Piquette Zero, making it 100% vegan.
Is Piquette Zero gluten-free?

While not produced in a certified gluten-free facility, there are absolutely no traces of wheat in Piquette Zero.
Where To Buy Piquette Zero
Piquette Zero is available to purchase directly from our winery both in-person and online, and is available at retail locations across Canada. Within Nova Scotia, find it at Sobeys, Atlantic Superstore, Pete's Frootique, and your local independent grocer.
Full retailer list coming soon!
Want to learn more about becoming a retailer?
Interested in adding Piquette Zero to your retail location, or restaurant menu?
Connect with us at wines@benjaminbridge.com to start the conversation.