2021
Regular price
Sale price
$14.80
Unit price
per
Sale
Sold out
---
In the glass, a hazy golden colour with emerald reflections. On the nose, a cascade of freshly squeezed ruby grapefruit and lime zest is interlaced with suggestions of blooming lavender tree. On the palate, a myriad of lively citrus notes creates the most refreshing balance between hints of zesty lime and a delicate touch of maritime salt.
TECH SPECS

Vintage: 2021

Varietal Composition: Sauvignon Blanc, NY Muscat, Chardonnay Musque, Ortega and Geisenheim grape skins

Alc. by vol.: 6%

pH: 3.50

RS: <1 g/l

Brix (avg. at harvest): <16ºBx

Service Temp (°C): 2°C

Recommended Drinking: 2023
View full details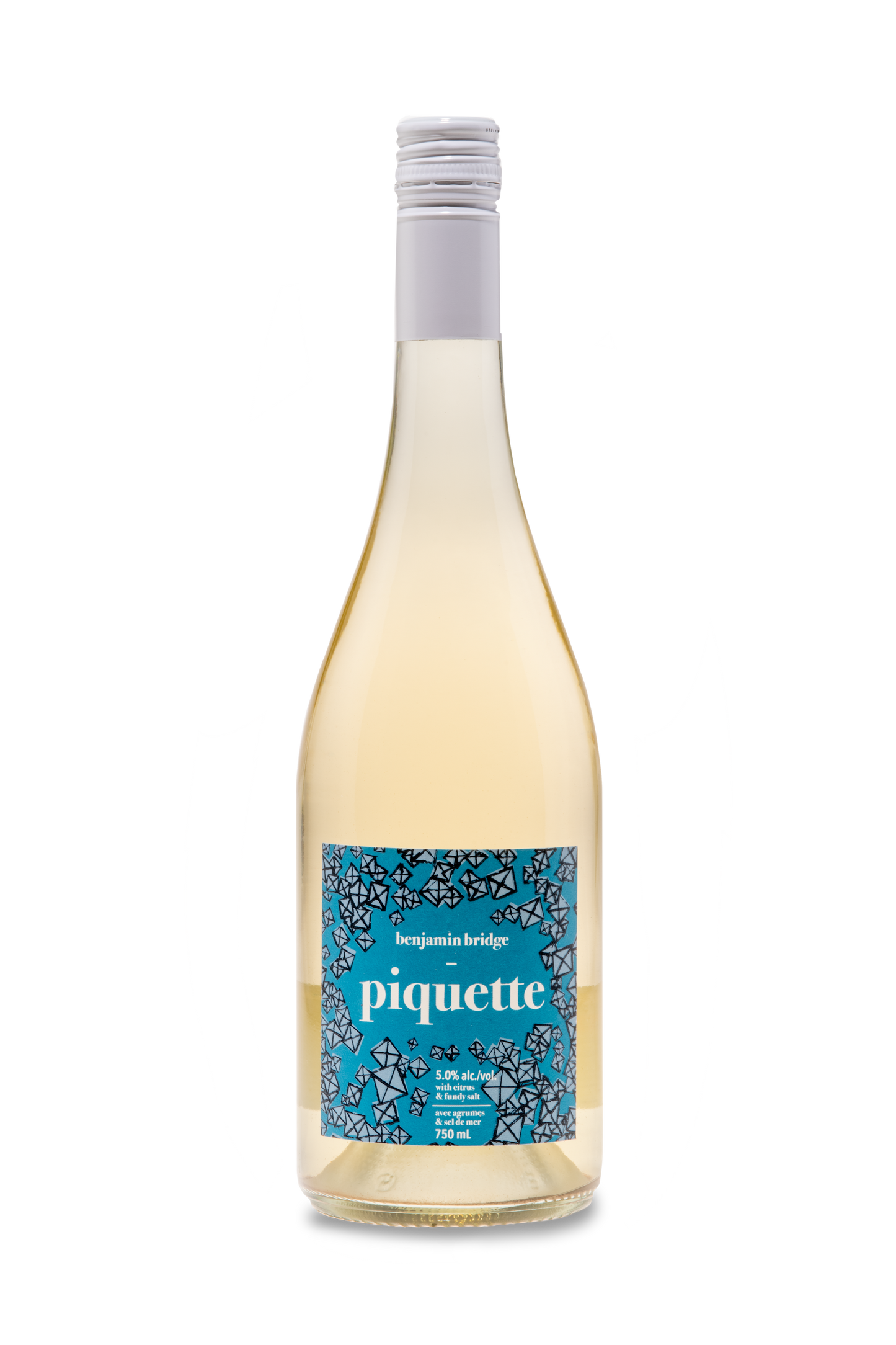 FURTHER NOTES
The first and most essential pursuit of Benjamin Bridge has always been to capture and provide experiences defined by a unique sense of place. It is within that search that we accidentally fell in love with the uplifting and energizing qualities provided by our tidal ecosystem - something ethereal, a lightness that lifts the spirit and a saline maritime breeze built into the sensory experience.

Amongst the earliest international adopters in the renaissance of Piquette, Benjamin Bridge recognised, three years ago, the following evidence: if one single style can simultaneously remain genuinely non-interventionist (unfiltered, wild fermented, no sulfites added), reduce waste by extending the life of our precious grapes and simultaneously reduce alcohol by 70% while remaining profoundly aromatic, we had to help rise back to prominence.

Three years after our early revival efforts, although many are now familiar with Piquette as a resurrected style, here is a brief overview of its history. Piquette refers to the action of adding water to gently pressed grape skins, extracting their full fragrance and flavour potential, while providing a lower alcohol beverage.

This was common practice in French vineyards throughout the 20th century, with the Piquette being offered generously to farm and cellar workers as an afternoon refreshment.

Because it is a wine refresher rather than a traditional wine that is higher in alcohol, we saw the opportunity to think outside the box and dare the most harmonious infusions of locally foraged ingredients for unique experiences preserving their important connection to place.