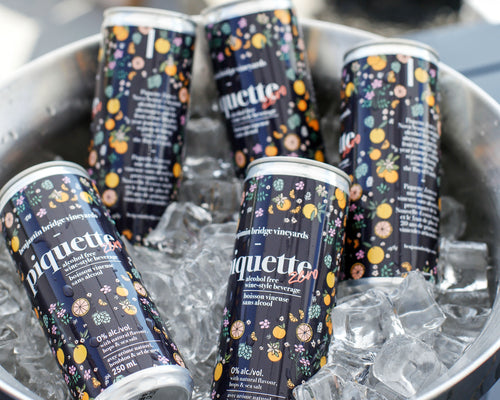 Lively. Delicious. Alcohol free.
Explore Our Low-to-No Alcohol Options
Interested In Learning More About Piquette Zero?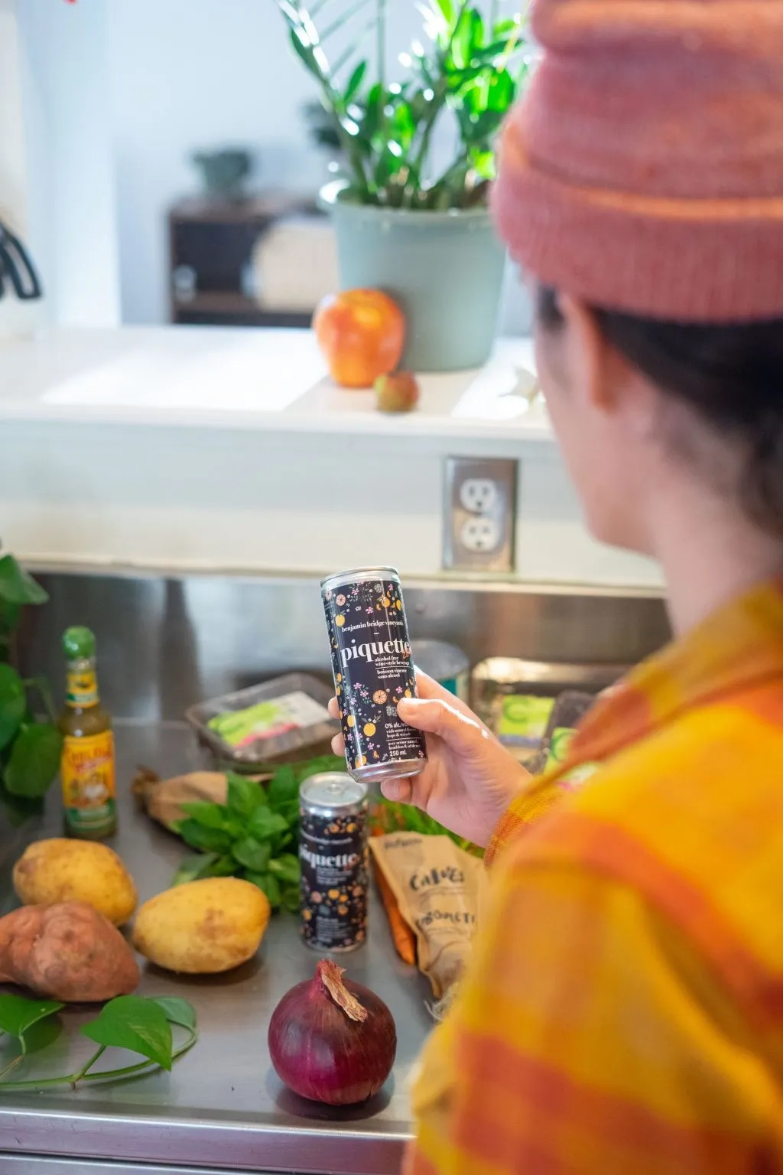 What is the best way to serve Piquette Zero?

Serve Piquette Zero very cold, or over ice to enjoy its zesty and refreshingly complex flavour.
Can you serve Piquette Zero as an alternative to wine?

Yes! It'sa delicious sparkling wine alternativethat can be enjoyed on its own or paired with food.
Why did Benjamin Bridge decide to make Piquette Zero?

Recognizing that many folks would like to have artisanal zero-alcohol beverages, Benjamin Bridge tapped into the knowledge gained from making fine sparkling wines and light wine refreshers to create Piquette Zero – a drink that is perfect for every occasion.
Where is Piquette Zero available to purchase?
Is there any alcohol in Piquette Zero?

You can enjoy aromatic Piquette Zero knowing that there isn't a trace of alcohol present, and also that zero alcohol has been used in its creation.
Is it safe to drive after drinking Piquette Zero?

Yes, absolutely. If you've only had Piquette Zero to drink, you are safe to drive. You can even hit the road with one in hand!
Is Piquette Zero made from wine?

No, Piquette Zero is not made from wine. Instead we have used the power of grape skins combined with natural citrus flavours, floral elements, organic hops, and hand harvested sea salt to create this creative and unprecedented craft option.
Is alcohol removed from wine to make Piquette Zero?

No, there is absolutely no alcohol used in the making of Piquette Zero.
Is Piquette Zero fermented?

There is no fermentation process involved in the making of Piquette Zero.
How can I get it in my neighbourhood grocery stores?
Can I drink Piquette Zero when I am pregnant or nursing?

Absolutely. You can enjoy Piquette Zero throughout pregnancy and while you are nursing too!
Is Piquette Zero Gluten Free?

There are absolutely no traces of wheat in Piquette Zero.
How many calories are in Piquette Zero?

There are 50 calories in a can – less than most wine, juice, and kombucha.
How much sugar is in Piquette Zero?
When will you have a new flavour of Piquette Zero?

We're working on a new release right now! Stay tuned to our social channels for more info.
Why is there glycerin in Piquette Zero?

Piquette Zero is a natural and low-intervention alcohol-free alternative to the unique sensory experience of traditional wines. The main pillars of fullness, character and identity in wine are the tannins and antioxidants present in grape skins, the natural acidity present in the grapes, and the enveloping warmth of the alcohol content. The purpose of glycerine, a naturally vegan product found in the world's most robust and full-bodied wines, is to provide an alternative to the fullness and warmth of alcohol while remaining sugar-free and alcohol-free. 
What are the nutritional facts for Piquette Zero?

You can see the nutritional facts in the table below: