2021
Regular price
Sale price
$18.74
Unit price
per
Save
Sold out
---
In the glass, a pink lemonade color with a pale 
fuchsia
 hue. On the nose, hints of ground cherries 
are brightened by lively suggestions of tart mango and lime sorbet. On the palate, vibrant notes of melba peaches, mixed wild berries
,
 and Honeycrisp apples lead to an uplifting saline finish. 
TECH SPECS

Vintage: 2021

Varietal Composition: 90% Geisenheim, 10% Gamay

Alc. by vol.: 10%

pH: 3.15

TA: 8.0 g/l

RS: 0 g/l


Brix (avg. at harvest): 18ºBx

Service Temp (°C): 3°C

Recommended Drinking: 2023-2024
View full details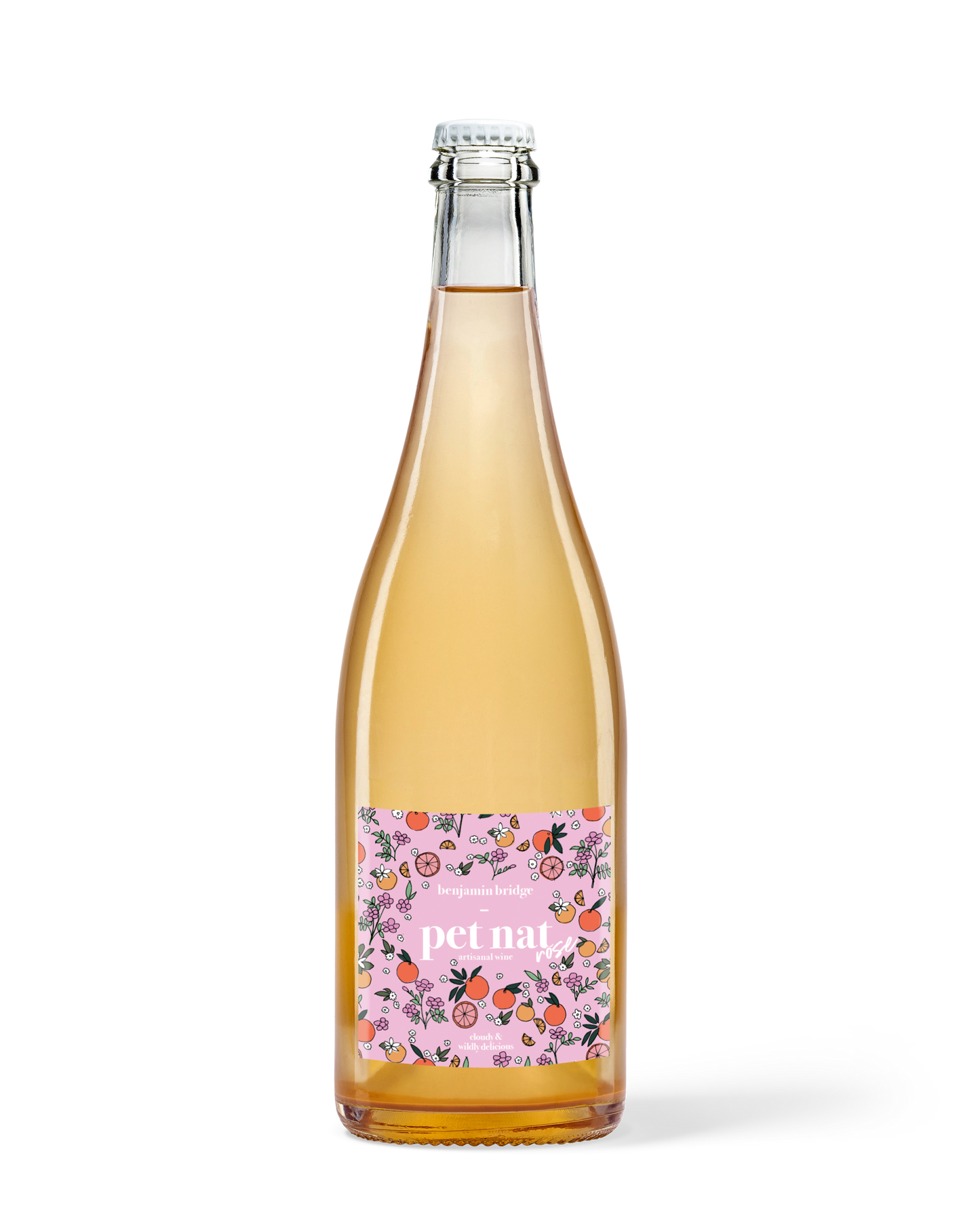 FURTHER NOTES
Sparkling wines have long been identified as a style most suited to our tidal ecosystem in Nova Scotia, as our terroir provides sought-after qualities of vibrance and freshness.

Simultaneously, low intervention and natural practices have an equally celebrated reputation for revealing the unique identity of particular soils and microclimates. Pet Nat Rosé is a wine exploring the combination of these two principles, with the hope that a synergy more powerful than any individual part could emerge.

Effervescence is a natural byproduct of any fermentation, which is essentially the transformation of the sugars from the grapes into alcohol and CO2, or bubbles. The idea behind Pet Nat - or pétillant naturel - is to bottle the wine before the completion of its fermentation, while a small amount of natural grape sugar remains so that the fermentation can be completed, capturing or trapping the bubbles created in the process inside the bottle.

The unique and exciting thing about Pet Nat is that the wild bottle fermentation is performed by the indigenous yeast existing within the biodiverse ecosystem where the grapes are grown regeneratively.

To allow for the most transparent expression of place, our Pet Nat has absolutely nothing added or removed from it, including no sulfites and no filtration. The wine is revealed to the world raw, still alive, and in its most authentic form -- cloudy and juicy with all the natural goodness one could argue should never be stripped away from wine. Pet Nat Rosé adds a dash of co-fermented Cabernet Franc and Gamay to our highly aromatic base of Geisenheim, merging hints of black currant and dried apricot with notes of fresh white peaches.