2020
Regular price
Sale price
$30.45
Unit price
per
Sale
Sold out
---
In the glass, a juicy cloudy golden colour with an orange and amber hue. On the nose, a myriad of fruit trees in bloom, combined with hints of fuzzy peaches, fresh apricot and mango coulis. On the palate, a refreshing cascade of citrus zest and grapefruit lead the way, interlaced with suggestions of blood orange and star fruit. A brisk finish leaves echoing notes of key lime, pomelo rind and tangerine skin. 
True to this ancestral style, lees and sediments remain in the bottle.
TECH SPECS

Vintage: 2020

Varietal Composition: 100% Ortega

Alc. by vol.: 12%

pH: 3.50

TA: 6.6 g/l

RS: 3 g/l

Brix (avg. at harvest): 19ºBx

Recommended Drinking: 2023-2024
View full details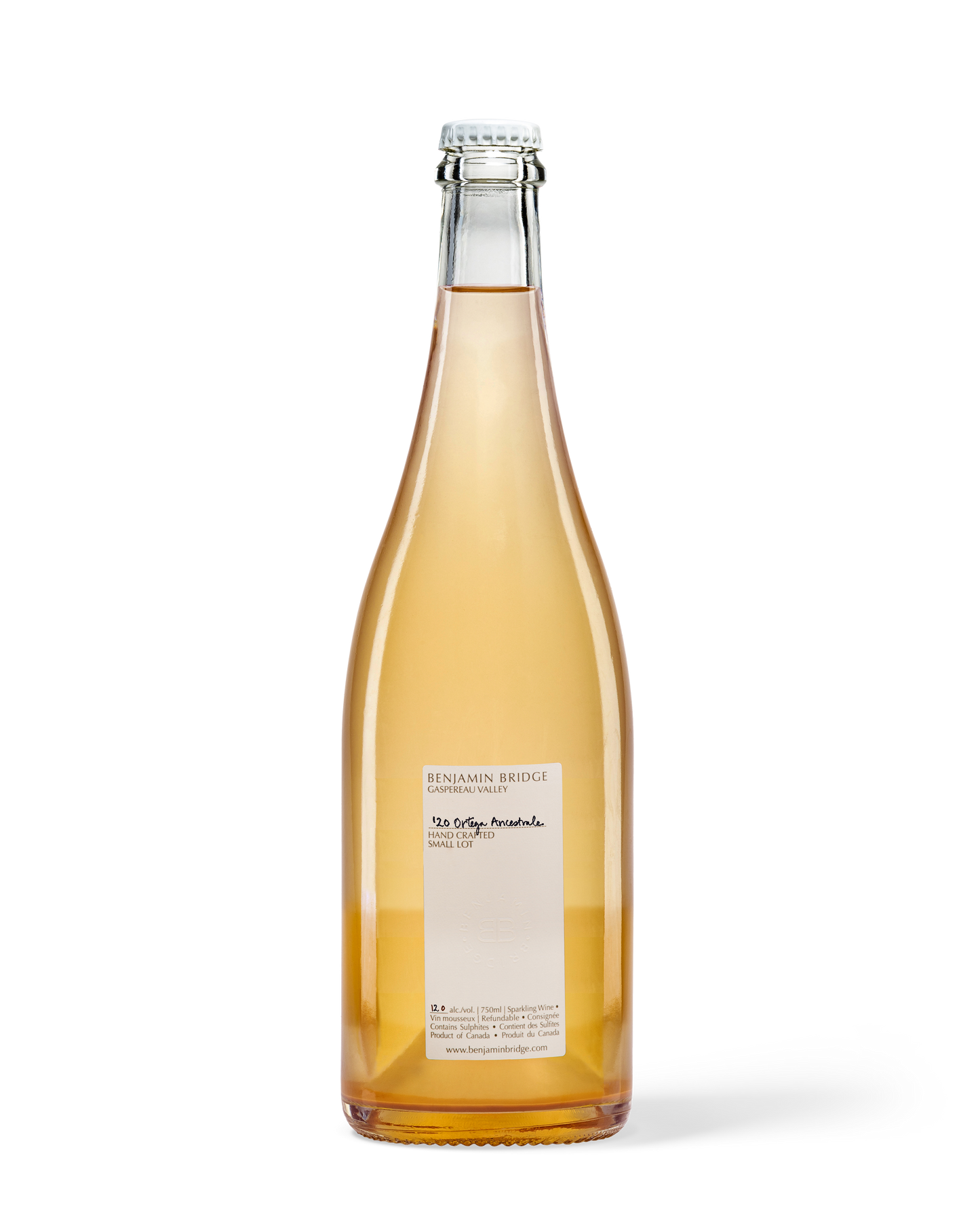 FURTHER NOTES
Ortega is a highly aromatic German cross between Muller-Thurgau and Siegerrebe.

In addition to its floral bouquet with distinctive notes of peaches, the cross resulted in a cold-resistant variety that could withstand intense frosts and blizzards. It was this unique combination of climatic hardiness and aromatic potential that led long-time Nova Scotia grape grower John Warner to become an early adopter of the variety in the mid-1990's.

Due to its balanced acidity, softness, and fragrant personality, Ortega is an ideal candidate for the Ancestral Method. That is because this natural style implies a bottle fermentation performed by a wild/indigenous yeast that will leave the wine cloudy and dry, requiring a profile that is inherently balanced without the presence of sugar.

Prior to its spontaneous fermentation, the juice and skins remained united for over 3 weeks, magnifying the aromatic profile to detonating heights, while remaining elegant and avoiding the bitterness and astringency of more ambitious skin macerations (such as more extracted orange wines). This is a living wine, with no sulphites, additions, or removal of any kind. True to the style, lees and sediments are still in the bottle. Expect it to be a universal crowd-pleaser!