2021
Regular price
Sale price
$83.45
Unit price
per
Sale
Sold out
---
In the glass, a light peach colour with an amber hue. On the nose, a combination of orchard blossom, nectarine and acacia honey are energized by maritime salinity and herbal undertones. On the palate, notes of melba peaches, peach fuzz, mandarin rind and dried apricots are brightened by the delicate effervescence. A vibrant and juicy wine, like the imaginary dipping of an orange creamsicle in a glass of botanical bitter.
*Enjoy flat rate shipping based on region! 
TECH SPECS

Vintage: 2021

Varietal Composition: 100% Geisenheim

Alc. by vol.: 10%

pH: 3.15

TA: 8.0 g/l

RS: 0 g/l

Brix (avg. at harvest): 18ºBx

Service Temp (°C): 3°C

Recommended Drinking: 2023-2024
View full details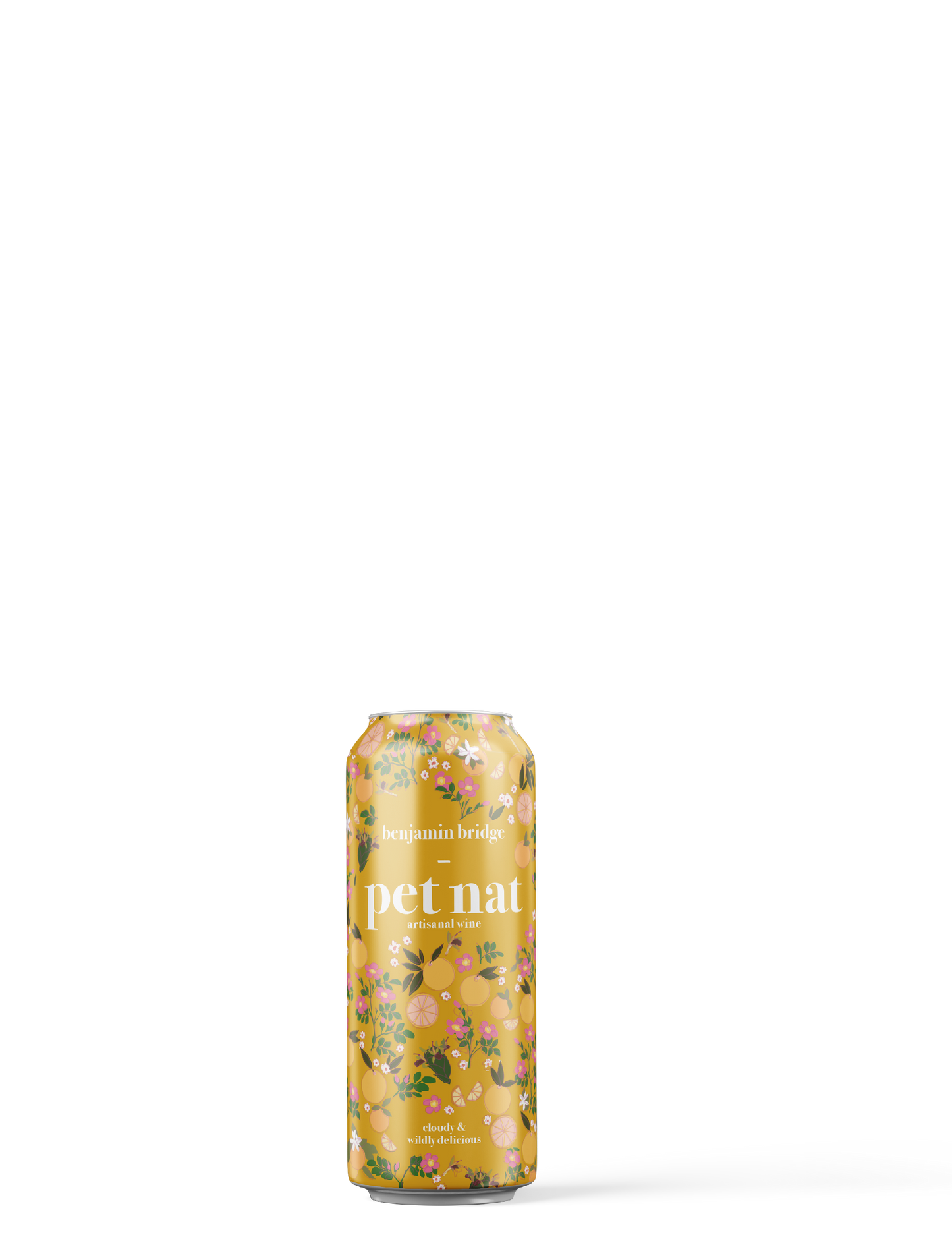 FURTHER NOTES
Our Pet Nat was borne from experimentation with small-lot cuvées as part of the BB Club.

With nearly 20 years of organic farming and a primary focus on low-interventions sparkling wines, it was almost inevitable that Benjamin Bridge would release Nova Scotia's first Petillant Naturel four years ago.

These first small-lot Pet Nats were made from 100% Geisenheim in 750-ml, demonstrating aromatic compatibility beyond expectations, and providing the blueprint for what has become an essential part of our program and identity.

Pétillant Naturel is the ancestor of all sparkling wines, and most importantly, the sparkling style that is by far the least manipulated. It simply consists of a wild fermented wine with nothing added (including no sulphites), then bottled prior to completing its primary alcoholic fermentation.

Thanks to a small amount of natural sugars and the wild yeast from the grapes present, the fermentation finishes inside every bottle.

The result is a raw and living wine that is perceptibly cloudy and hazy when poured. This cloudiness comes from fermentation sediments and is a quality marker of this natural style, serving as a testament to the absence of unnecessary processing interventions.