Regular price
Sale price
$53.98
Unit price
per
Save
Sold out
---
In the glass, a hazy golden colour with emerald reflections. On the nose, a cascade of freshly squeezed ruby grapefruit and lime zest is interlaced with suggestions of blooming lavender tree. On the palate, a myriad of lively citrus notes creates the most refreshing balance between hints of zesty lime and a delicate touch of maritime salt.
*Enjoy flat rate shipping based on region! 
TECH SPECS

Varietal Composition: Sauvignon Blanc, NY Muscat, Chardonnay Musque, Ortega and Geisenheim grape skins

Alc. by vol.: 6%

pH: 3.5

RS: <1 g/l

Brix (avg. at harvest): <16°Bx

Recommended Drinking: 2023
SHIPPING & DELIVERY

- Free local delivery on orders over $50 to select areas of HRM & Wolfville
- Free shipping on orders over $300
- Shipping rates are calculated at checkout based on package weight and region
View full details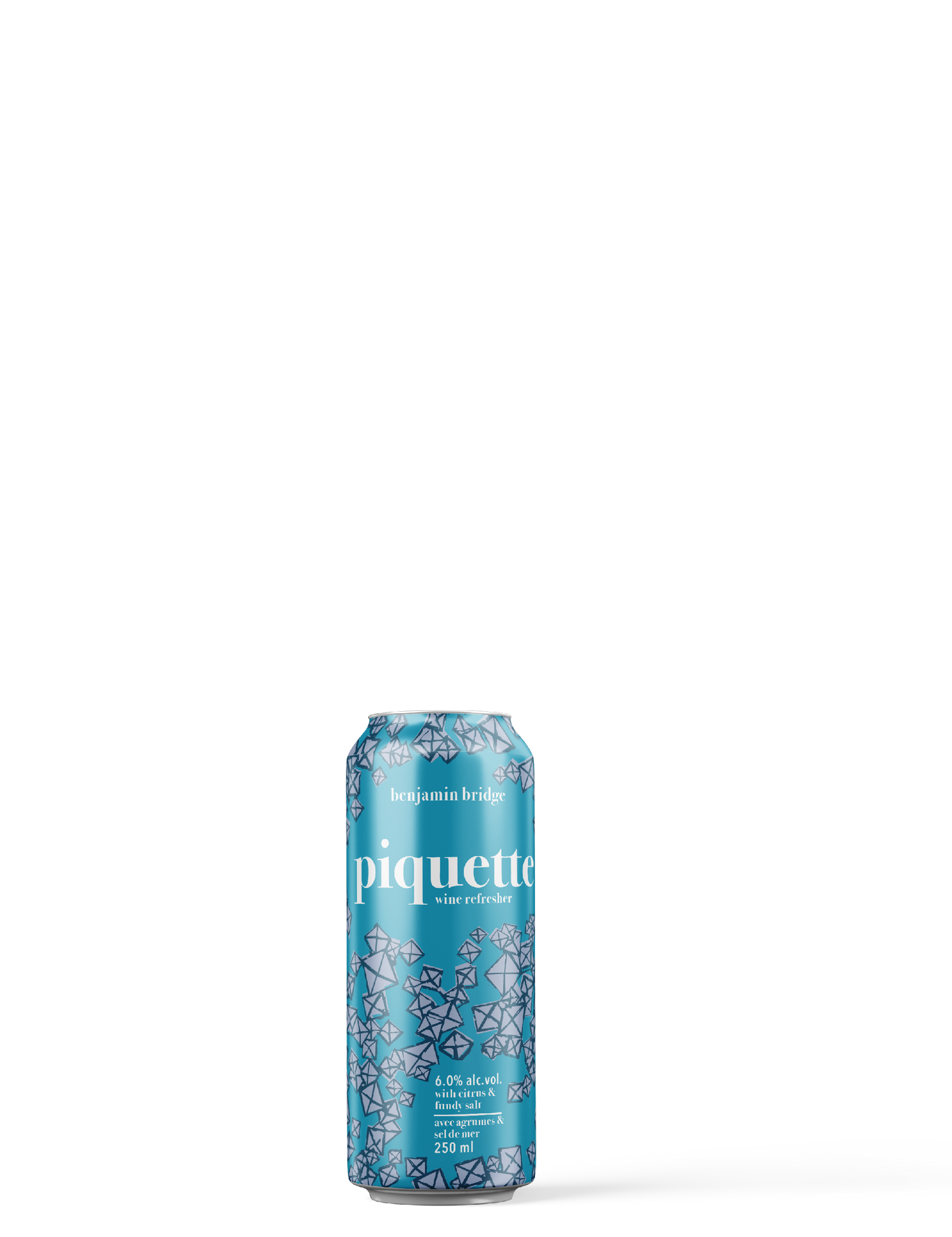 FURTHER NOTES
Piquette is the name of a low-alcohol wine beverage made from the second pressings of grape pomace, known to have been enjoyed by French farmhands and vineyard workers.

In recent years, the style has enjoyed a grassroots renaissance due in part to its unprecedented ability to connect genuine artisan practices with a surprisingly attractive price previously out of reach for small boutique wineries. The true beauty of Piquette is that it unites low-intervention craftsmanship and affordability by relying on the highly sustainable act of reducing waste.

Paying homage to the history of Piquette as an easy-drinking wine to quench the thirst of agricultural workers, our own take and twist on the style has been made with the objective to reinvigorate. For optimal refreshment, we added a pinch of hand made salt flakes from the Bay of Fundy.

Finally, to make our Piquette extra succulent, we finished it with a delicate touch of organic Citra hops and packed an energizing jolt of fizz to create the zestiest wine refresher. Since grape skins are essential to the process, we selected varieties with highly aromatic compounds within their skins, such as Sauvignon Blanc, NY Muscat, Chardonnay Musque, Ortega and Geisenheim.